SEO REPUTATION MANAGEMENT
Control Your Online Reputation
Take charge of what people say about you online. The best defence is a good offense. Increase more visibility of the web properties which you control. Do you need help? A One Sol can help!
Reputation Management: From microphone to megaphone
The person might have only typically communicated with 20-30 people, before the invention of social media. In the past, if you owned a business, and offered sub-par service, then the worst-case scenario was that your clients will rant about you to their expanded family and maybe their neighbours and friends. Most of business owners dislike to hear negative things about their business and their services, but on the whole, having a dissatisfied customer who speaks badly about you to their inner circle isn't that worst – surely not so much to run out you of the company, business.

At present, things are quite different. We draw breath in a consumer-enabled world where nearly every person is using Facebook, Twitter, Yelp, Angie's List, LinkedIn, and Google Plus. Even quite types often have 200+ friends and connections and each of their friends has a connection to 200+ other people! A single post whether it's on Facebook or Twitter can go viral and be spread to thousands of peeps in few minutes, and just like that, you should go to strategic reputation management and response plan.
You know well if the average person uses a microphone in the past time, at present they are using a megaphone and well-connected people use megaphone hard-wires into million-watt amp speakers to match… and their volume is up full-blast. Either you can insult persons like this or you can provide them with bad service that doesn't fulfil their expectations and undoubtedly you will be in big trouble.
REPUTATION MANAGEMENT: THE BEST DEFENSE IS A GOOD OFFENSE
Indeed, good work and the right thing can protect your reputation when you make a mistake. But this is considered not enough sometimes. Every now and again, you meet a customer where you lose and, as a result, the customer makes it one's so personal task to tell the people about you again and again.
If you own shipping company or home services business, then the question isn't "if" you'll face this, it's "when" you'll face it. And if you're an owner of the company used to getting compliments, it may be confused when you have to face a barrage of bad news or online complaints. Sometimes this comes unexpectedly without any provocation.
We are ready to help when you get caught between a rock and a hard spot. With proactive and reactive approaches, we have a lot of experience in online reputation management services in Pakistan, depending on the uniqueness of the situation. Our online reputation specialist in Pakistan can also provide brand monitoring.
MAXIMIZE THE GOOD; CROWD OUT THE BAD
When some person talks badly about you online, possibly there are easy and trouble-free solutions. First of all, you should monitor what's being said about your business services and your brand online and increase the visibility of the good things being said about your company which could effectively move anything not-so-good being said about you.
Learn more about A One Sol reputation tracking and SEO reputation management company in Pakistan.
Drop us a line today to learn more!
Why Choose A One Sol Over Other SEO Companies?
At A One Sol, we let our clients just speak for us. Have a look at our SEO reviews and hear directly from our clients why we are the best SEO company Pakistan in the world for your needs. Most importantly, everything A One Sol does comes from the perspective of a business owner. We work for your business like it's our own.
Done that? Great! Let's get a load of the details. Our SEO professionals can offer you a few guarantees other SEO agencies can't: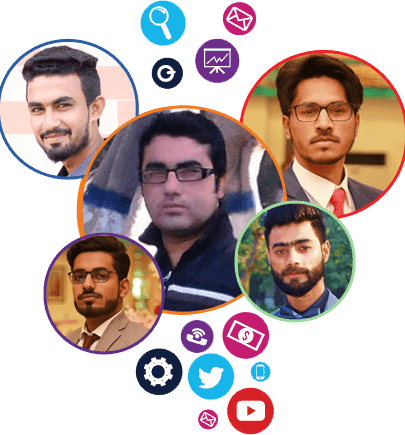 WE WON'T ALLOW YOU TO WORRY ABOUT LONG-TERM CONTRACTS. We won't put you in chains for a specific period of time. Ever.
YOU MUST OWN EVERY SINGLE DELIVERABLE, FROM YOUR WEBSITE TO EVEN YOUR CONTENT. Many SEO agencies wouldn't allow you to keep your work when you say them goodbye. Not us.
YOU'LL BOOST YOUR MARKETING COSTS. Whatever we do is tracked, measured, and closely analysed for betterment. This does lower your costs and lift results.
YOU GET THE PEACE OF MIND THAT WE WILL MAKE EVERY EFFORT FOR YOU. SEO is a long-term investment, this is why our SEO Specialists believe in building partnerships rather than acquiring clients.
YOU GET A DEDICATED ACCOUNT MANAGER to your best guidance, and you also get a support team, including an analyst, web designer/developer, and a dedicated (US-based) copywriter.
YOU GET DETAILED MONTHLY REPORTS (you can really understand) that attach search engine optimization performance to your bottom line.
What Clients Think About Us?
I hired this company to do my website, A One Sol did an amazing job at boosting my search rankings on Google. My web traffic is up and they are bringing in real customers into my store.
"In my history of working with SEO agencies, I can honestly say that there is not one company that I've ever worked with that has better service than A One Sol."
A One Sol has provided me with such a great quality service that I refer to all of the business.
See the businesses we work with
We Serve Every Industry But The Main Are:
Architects and custom builders
Bathroom remodelers
Chiropractors
Contractors
Dentists
Ecommerce
Electricians
Enterprise accounts
Financial services
Fire protection
Flooring companies
Franchises
HVAC companies
Kitchen remodelers
Landscapers
Lawyers
Medical and healthcare
Plumbers
Property management
Real estate agencies and realtors
Remodelers
Restoration
Roofers
Small businesses
Solar companies
Urgent care centers
Window and door companies
Clients Success Around the Country:
China    
India     
United States    
Indonesia           
Brazil    
Pakistan              
Nigeria 
Bangladesh        
Russia  
Japan   
Mexico
Philippines         
Ethiopia               
Vietnam              
Egypt    
Iran       
Congo, Dem. Rep.           
Germany            
Turkey 
Thailand              
France 
United Kingdom              
Italy      
Burma  
South Africa       
Tanzania             
Korea, South     
Spain    
Colombia            
Kenya  
Ukraine
Argentina           
Algeria 
Poland 
Uganda
Iraq       
Sudan  
Canada
Morocco             
Afghanistan       
Malaysia             
Venezuela         
Peru     
Uzbekistan        
Nepal   
Saudi Arabia      
Yemen 
Ghana  
Mozambique    
Korea, North
Have Any Question?
Please contact us using the form and we'll get back to you as soon as possible.
Street No 1, Farid Town, Opposite Medical College, Sahiwal