Complete SEO Strategies Brought to You by a Premier Enterprise SEO Agency
Are you a marketing executive at a larger company? Are you tired of being outranked by small and big business? Don't worry. We'll help! What you don't need is another company – instead of this, you need a partner that works as an extension to your internal marketing team. A One Sol has helped a lot of enterprise organization get their earned position in the organic search results – significantly growing traffic, leads, and sales from non-branded organic search queries. From practical and inclusive website audits and competitors' analysis to consulting and continuing content marketing, whatever your enterprise search engine optimization requirements, we can help!
Common Enterprise SEO Strategy Challenges
HOW SEO SERVICES LIFT YOUR BOTTOM LINE
To rank well organically, three things are most important. First, you should develop a website that's coded and structured well that the search engines can easily find, read, and index. Second, you need a unique, relevant, and great piece of content. Make sure your content provides value to your visitors and answer the questions suggested by their search query. Third, your overall web presence should show your company as an authority – a great leader in your industry. However, enterprise companies immediately get links from media websites, vendors, suppliers, partners, etc., they have to regularly struggle with website structure and content.
With a lot of experience, A One Sol is a well-established enterprise company in Pakistan that knows deeply how to use all three enterprise SEO strategies to position your company at the top of the search results for your best, top keywords. Do you have questions? Contact us below!
ENTER YOUR WEBSITE TO SEE IF YOU COULD BENEFIT FROM SEO.
What's Included in Our SEO Services for Enterprise Corporations?
Enterprise SEO agencies in Pakistan like A One Sol handle monitoring on daily basis and boost your online footprint, including getting your website more visible in the search results and making your brand different across the web. We perform this by following the procedure below.
(1) PERFORMING A COMPETITIVE DIGITAL ANALYSIS
Complete a competitive search result analysis to see how you stack up against your top three competitors using our proprietary data tracking software
Perform keyword research and identify the top sales-driving search terms and keywords in your market area and industry
Establish your baseline for website code and structure, content, local visibility, and off-site citations
Create actionable revenue goals and corresponding SEO plans
(2) OPTIMIZING WEBSITE CONTENT AND CODE
Install/streamline advanced Google Analytics and call tracking
Make your website fast, secure (optional add-on, but recommended), and mobile friendly (optional add-on, but recommended)
Edit your website's code and structure to be in-line with best SEO practices
Edit and optimize your existing website pages for search visibility and creative content
Perform conversion rate optimization on all website elements (like contact forms, buttons, navigational links)
(3) CREATING NEW WEBSITE CONTENT AND CREATIVES
Publish targeted, well-written website content that improves your local search rankings and provides a seamless user experience
Create SEO-optimized creative content assets like infographics & videos
Optimize and create content for voice search and digital assistants
(4) OPTIMIZING AND CREATING LOCAL CITATIONS (LOCAL SEO)
Locate and audit existing citations across online directories like Yelp, Facebook, and more, including industry-specific directories
Optimize your company's Google My Business page for your business address or service area, phone number, maps listing, and business hours
Optimize your company's Facebook page for local SEO best practices
Discover, manage, and monitor local citation and backlink opportunities to build authority
(5) MEASUREMENT AND ANALYTICS REPORTING
Provide transparent revenue attribution and easy-to-understand monthly reports on the status and results of all your SEO campaigns, as well as what's coming next
Provide reports on tracked incoming phone calls, and analyze separately tracked phone lines for each marketing channel (optional add-on, but recommended)
Monitor analytics on a daily basis to watch for anomalies, hacks, penalties, or other sales-damaging events
And more
(6) TRACKING AND TWEAKING YOUR SEO CAMPAIGN
Monitor your keyword rankings, organic traffic, calls, and leads
Monitor the keywords rankings of your competitors
Monitor your top-three competitors
Continually optimize and pivot your campaign for better performance over time
CODE AND SITE STRUCTURE ISSUES
Many enterprise websites are huge in size. In many cases, different sections of the site are run by different autonomous divisions. However, getting everyone to attach with certain standards may feel like herding cats. Developing a unified strategy can extremely be laborious. At the same moment, this is absolutely what's required to develop a foundation for the most critical feature of search engine optimization-relevant content. A One Sol has hugely come up with the flying colours satisfying various divisions of large organizations to come together in unified style. When our specialists perform an enterprise SEO audit in Pakistan, the data created presents a quantifiable justification for rework that might be seen with huge doubt in other ways.
ENTERPRISE CONTENT CHALLENGES CONQUERED
Think your website has a great deal of content? Many marketing managers are nippy to respond, "YES!" If you think that instead of having plenty of content on your enterprise website, but still smaller companies have more rank than your company, an alarm needs to go bang in your head. Insufficient content should not be a reason for big business, non-profit or Fortune 500/1000 company doesn't rank great organically, but it's usually a great part of the problem. According to the latest white papers published by Omniture, on-page SEO gives approximately 82 per cent of the ranking equation. Small changes to your enterprise site's content can affect considerably positive on your organic rankings. Many times, the big problem isn't really a lack of content on your website, but it's that the content is designed in a way that produces a roadblock for the search engines.
For example, we worked with a large company that had roughly 500 white papers on its website. The problem was that each of these white papers covered several business directories within the website. A few links were out there from other pages of the white papers and instead of plain HTML, there were PDFs pages "with an option of download." However, PDFs are index-able by search engines but are not as unchallenging to optimize as plain HTML pages.
As a content mistake, large companies describe their services in a vocabulary unique to their organization. For example, a lot of peeps are acquainted with the term "association management" and understand its meaning. We can't say the same about the phrase "society management." Yet, a large scientific association in the Washington, DC area apply the term ("society management") to describe their association management service. When our professionals request their executive to change the Title Tag of the page from society management to association management, they have second-thought. At last, utilizing data from our enterprise SEO audit service in Pakistan, they made the changing.
The result? A 1,900 per cent increase in organic traffic!
Enterprise Investment in SEO
Regardless of case study after case study detailing the wonderful ROI possible from search engine optimization, most enterprise organization have not gone "exhausted". Smaller businesses, by comparison, frequently lacking the (significant) marketing budgets needed to analysis alternative forms of advertising, are frequently seen investing even though they perhaps could in search engine optimization. Say it a final reason you often see the small businesses outrank big businesses in search results.
Are you tired of being outranked by smaller competitors? Don't worry. Whether you're a marketing executive for an enterprise company in Pakistan, large association, or major organization, give A One Sol a chance and start receiving the organic visibility you deserve.
Why Choose A One Sol Over Other SEO Companies?
At A One Sol, we let our clients just speak for us. Have a look at our SEO reviews and hear directly from our clients why we are the best SEO company Pakistan in the world for your needs. Most importantly, everything A One Sol does comes from the perspective of a business owner. We work for your business like it's our own.
Done that? Great! Let's get a load of the details. Our SEO professionals can offer you a few guarantees other SEO agencies can't: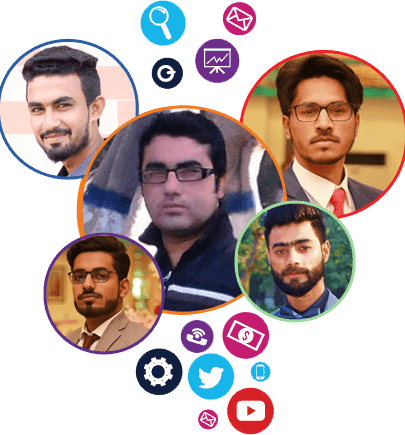 WE WON'T ALLOW YOU TO WORRY ABOUT LONG-TERM CONTRACTS. We won't put you in chains for a specific period of time. Ever.
YOU MUST OWN EVERY SINGLE DELIVERABLE, FROM YOUR WEBSITE TO EVEN YOUR CONTENT. Many SEO agencies wouldn't allow you to keep your work when you say them goodbye. Not us.
YOU'LL BOOST YOUR MARKETING COSTS. Whatever we do is tracked, measured, and closely analysed for betterment. This does lower your costs and lift results.
YOU GET THE PEACE OF MIND THAT WE WILL MAKE EVERY EFFORT FOR YOU. SEO is a long-term investment, this is why our SEO Specialists believe in building partnerships rather than acquiring clients.
YOU GET A DEDICATED ACCOUNT MANAGER to your best guidance, and you also get a support team, including an analyst, web designer/developer, and a dedicated (US-based) copywriter.
YOU GET DETAILED MONTHLY REPORTS (you can really understand) that attach search engine optimization performance to your bottom line.
What Clients Think About Us?
I hired this company to do my website, A One Sol did an amazing job at boosting my search rankings on Google. My web traffic is up and they are bringing in real customers into my store.
"In my history of working with SEO agencies, I can honestly say that there is not one company that I've ever worked with that has better service than A One Sol."
A One Sol has provided me with such a great quality service that I refer to all of the business.
See the businesses we work with
We Serve Every Industry But Specifically We Serve:
Architects and custom builders
Bathroom remodelers
Chiropractors
Contractors
Dentists
Ecommerce
Electricians
Enterprise accounts
Financial services
Fire protection
Flooring companies
Franchises
HVAC companies
Kitchen remodelers
Landscapers
Lawyers
Medical and healthcare
Plumbers
Property management
Real estate agencies and realtors
Remodelers
Restoration
Roofers
Small businesses
Solar companies
Urgent care centers
Window and door companies
Clients Success Around the Country:
China    
India     
United States    
Indonesia           
Brazil    
Pakistan              
Nigeria 
Bangladesh        
Russia  
Japan   
Mexico
Philippines         
Ethiopia               
Vietnam              
Egypt    
Iran       
Congo, Dem. Rep.           
Germany            
Turkey 
Thailand              
France 
United Kingdom              
Italy      
Burma  
South Africa       
Tanzania             
Korea, South     
Spain    
Colombia            
Kenya  
Ukraine
Argentina           
Algeria 
Poland 
Uganda
Iraq       
Sudan  
Canada
Morocco             
Afghanistan       
Malaysia             
Venezuela         
Peru     
Uzbekistan        
Nepal   
Saudi Arabia      
Yemen 
Ghana  
Mozambique    
Korea, North
Have Any Question?
Please contact us using the form and we'll get back to you as soon as possible.
Street No 1, Farid Town, Opposite Medical College, Sahiwal